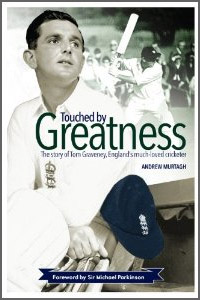 Touched by Greatness - the story of Tom Graveney, England's much-loved cricketer
by Andrew Murtagh

Published by Pitch Publishing
A2, Yeoman Gate, Yeoman Way,
Durrington BN13 3QZ, England

ISBN 978 1 90962 623 2

Pages 272

Price: Sterling Pounds Eighteen and Pence Ninety nine only.


Born in Dublin, Ireland on May 6, 1949, Andrew Murtagh has had three careers - one as a professional cricketer, (he played professional cricket for Hampshire and was a member of the team that won the County Championship in 1973 and the John Player League in 1975) one as a housemaster at Malvern College (where he became Head of Cricket) and his latest as an author.

Andrew's first book, A Remarkable Man, was placed on the shortlist for the Cricket Society and MCC cricket book of the year. He met his wife, Lin, at University. They have three grown-up children and now live in a quiet village in Worcestershire.

As Tom Graveney's close personal friend, Andrew Murtagh has enjoyed constant, unfettered and unprecedented access to his subject. Making full use of Graveney's extraordinary powers of recall and his legendary expertise as a raconteur, he was able to chronicle the story of his long and eventful life. He unlocks the true character of Tom Graveney, who offers entertaining and fascinating insights into the game he served so devotedly and which he still loves with such a passion.

In his Foreword, Sir Michael Parkinson, remarks:"If I analyse my most lasting memories of cricket they all feature players of graceful manner. Tom Graveney in full flow was effortless and unfeigned. There were no curlicues or flourishes. The beauty of his play was its simplicity, its lack of vanity. What you learn about style is it can't be taught.

Andrew Murtagh has written Tom's story with thorough research and sympathetic understanding of a man who was often misunderstood and sometimes controversial except in one regard: everyone agreed he was a batsman of unique style, and not the kind of cricketer who fades from memory."
In his Preface, Andrew writes: He was a serious player in a golden age of English batsmanship, who started his England career batting with Len Hutton and ended it with another Yorkshireman, Geoff Boycott. The runs he scored were beautifully carfted but, my goodness, they were as invaluable as anyone's to the cause of Gloucestershire, Worcestershire and England. He was as worthy of his place at the top table of English batsmen in the 1950s and 60s as Hutton, Compton, May, Cowdrey, Dexter and Barrington and anyone else you care to mention."

By virtue of his peerless batsmanship and a career stretching from the 1940s to the 1970s, Tom Graveney is now a national treasure – the favourite cricketer of so many fellow players, enthusiasts and aficionados. The character behind the affable façade is now unlocked, revealing Graveney as a true entertainer, at the fireside as at the crease.

The book is reasonably priced - a good buy for anyone who has followed Tom Graveney's career and wants the details all in one publication. Cricket enthusiasts would have loved to see his career stats in Tests and First-class cricket.