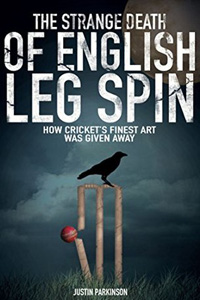 The Strange Death of English Leg Spin - How Cricket's Finest Art was Given Away
by Justin Parkinson
Publisher:
Pitch Publishing Ltd.
A2, Yeoman Gate, Yeoman Way, Durrington, BN13 3QZ, England
Website:
www.pitchpublishing.co.uk
Derek Hammond
, Pitch Publishing
ISBN 978 178531-029-4
Pages 223
Price Sterling Pounds Twelve and pence Ninety nine
The subject of leg spin bowling had not been tackled adequately in the past. This excellent well-researched thought-provoking book is a wonderful addition to your bookshelf.

The book explains that the art of leg spin bowling was originally the invention of an Englishman, Allan Steel, a Lancashire lawyer. Born in Liverpool in 1858, he was regarded as the first player to bowl overarm leg spin in international cricket. While as a schoolboy, he had managed to spin the ball both ways, using conventional leg breaks and off breaks. With a deceptive action, he maintained a good length, putting in the odd faster ball. In his first-class career, he had captured 789 wickets at 14.78 runs apiece in 162 matches, including 64 five-wicket hauls and 20 instances of ten wickets in a match. He had 29 wickets to his credit in 13 Tests at a shade under 21 apart from two hundreds.

Justin Parkinson says, the inter-war Australian leg-spinner Bill O'Reilly, rated by teammate Don Bradman as the best bowler in history, spent much of his life bemoaning England's attitude to leg spin. Nearing his final days, he wrote of the country's administrators, 'They could not handle it, so they decided to destroy it.' The author believes he had a point. Almost every major change to English cricket during the 20th century militated further against its success. Rules altered in favour of quick bowlers and off-spinners. Captains became obsessed with containment rather than attack.

Kent's leg break googly bowler Alf 'Tich' Freeman took 3776 wickets in 592 matches at an average of 18.42 in first-class cricket - a total exceeded only by slow-left armer Wilfred Rhodes, who played the game ten years longer. Freeman had been selected in just twelve Tests, taking 66 wickets at an average of 25.86.

Parkinson charts a history of neglect and ineptitude which has relegated England from leg spin's deadly pioneer to a cricketing nation with little understanding of, or love for, the game's finest art. But can England's googlies once again rule the world?

Summing up, Parkinson has suggested his own six-point plan for restoring English leg spin to the relative glories it had enjoyed in the 1920s and 1930s.