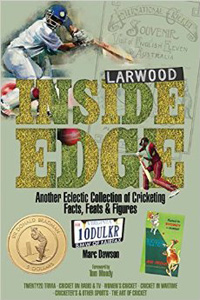 Inside Edge - Another Eclectic collection of Cricketing Facts, Feats & Figures
by Marc Dawson
Publisher:
Pitch Publishing Ltd.
A2, Yeoman Gate, Yeoman Way, Durrington, BN13 3QZ, England
Website:
www.pitchpublishing.co.uk
Derek Hammond
, Pitch Publishing
ISBN 978 178531-028-7
Pages 320
Price Sterling Pounds Twelve and Pence Ninety Nine.
Inside Edge, edited by Marc Dawson, is a delightfully interesting and compelling read from start to finish.

Who has posted the 5,000th international century? Which glam-rock star appeared in a cricket-inspired musical celebrating the Queen's 60th Birthday? Which New Zealand Test captain married a Miss Universe? Who has played both for and against the same English county in consecutive first-class matches? And which Test cricketer's son was placed on Interpol's most-wanted list? The answers to all these teasers can be found in this irresistible, addictive and routinely astonishing collection of cricketing facts, feats and figures.

Opening the door on areas such as cricket and crime, cricket and politics, writers and painters, cricket and classroom and cricket and music, this outstanding book truly transcends cricketing trivia.

From the commencement of the present day, Inside Edge delivers a treasure trove of global cricketing curiosities.

A veritable mine of information of over 300 pages of facts and figures, Inside Edge has become an indispensable to followers of the game.

In his foreword, former Australian Test player, Tom Moody says: "Mark Dawson has once again produced an absorbing book on our game which covers all areas imaginable with an intriguing approach. You will have a chance to see the game through others and reflect on their view and lose yourself in your own opinion; it's like that healthy discussion that is carried out in the members' bar during tea or after play."

The book has twenty interesting chapters.

In Twenty20 Teasers, we are informed that while bowling against Pakistan at Eden Park, New Zealand on December 26, 2010, Tim Southee had become the first bowler to produce a five-wicket haul and accomplish a hat-trick in the same Twenty20 International. He struck five times in nine deliveries, finishing with five for 18 to become the second New Zealand bowler and the third overall to achieve a hat-trick in International Twenty20 Cricket.

When Australia (191) defeated Pakistan (157) by 34 runs at the World Twenty20 competition at Gros Islet, St.Lucia on May 2, 2010, the match provided the first instance of all 20 wickets falling in the shortest form of the game. Australia's last over was also record-breaking with as many as five wickets tumbling, another first in international cricket - Brad Haddin, Mitchell Johnson, Michael Hussey, Steven Smith and Shaun Tait.

A week after posting a double century in a one-day international against Australia, India's Rohit Sharma was handed over his first Test cap and responded with a match-winning first-innings century - 177 vs West Indies at Eden Gardens, Kolkata in November 2013. The first cricketer to appear in 100 ODIs without playing in a Test. He had outstripped Doug Walters' 155 against England at Brisbane in 1965 as the previous highest by number six batsman on Test debut.

Marc Dawson is the author of 17 books which have seen his reputation as a font of cricketing trivia spread globally from his native Australia. Employed by the Australian Broadcasting Corporation on leaving the school at 18, he had been ABC's morning newsreader since 1980s. Since his retirement as Canberra's longest-serving radio announcer, Marc has spent his time collecting cricketing stories by word of mouth and digging for bizarre news in old papers.

All in all, Inside Edge - Another Eclectic collection of Cricketing Facts, Feats & Figures by Marc Dawson, is a most stimulating book, which no lover of the game should be without.