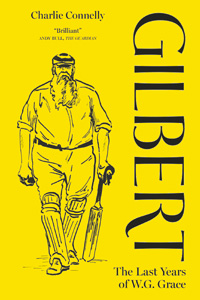 Gilbert - The Last Years of W.G. Grace
by Charlie Connelly
Publisher:
John Wisden & Co. Ltd.
An imprint of Bloomsbury Publishing PLC,
50 Bedford Square, London WC1B 3 DP, UK
Web:
www.bloomsbury.com
,
www.wisden.com
ISBN: HB: 978-1-4729-1758-4
Pages: 191
Price: Rs.499/-
The book is available in India from
Bloomsbury Publishing India Pvt. Ltd.
DDA Complex, LSC , Building No.4, Second Floor, Pocket C-6&7, Vasant Kunj New Delhi 110070 India
Tel: +91 11 40574957 +91 11 40574954
Publicity Co-ordinator: Henry Lord,
Henry.Lord@bloomsbury.com
Senior executive - Marketing & Publicity:
Peter Modoli
Email:
Peter.Modoli@bloomsbury.com
Few personalities are as instantly recognisable, from any era, from any walk of life, as the great W.G.Grace and in this new publication by Charlie Connelly, he digs beneath the surface to try to ascertain more about Grace the person. 2015 marked the centenary of the death of the most famous cricketer of them all, W.G.Grace.

Gilbert charts the final years of his life, from his fiftieth birthday celebrations in 1898 to his death at the age of 67 in 1915 through the eyes of Grace himself. Combining facts and imagination, this is an affectionate and beautifully written account of The Champion's later life that comes closer than ever before to giving a sense of the real W.G. behind the mythology; the perennially childlike soul saddled with the weight of genius.

To the public he was The Doctor, The Champion and W.G., but to those who knew him best he was simply Gilbert. This is a book about Gilbert.

The book begins with the famous story about his being dismissed three times in three balls by Charles Kortright, needing one run for his half century, the first plumb leg before, and the second caught behind. Grace stood his ground. The third, of course, bowled him, knocking both leg and middle stumps clean out of the ground. And so Kortright, arguably the fastest bowler in the country, offered the send-off: "Surely you're not leaving us, Doctor? There's one stump still standing."

On his death, Evening Despatch, UK had paid a tribute to him: "William Gilbert Grace, affectionately termed the Grand Old Man, was undoubtedly the greatest player cicket has known. It might also be said of him that he founded an empire, the empire of cricket, and there is not the slightest doubt that cricket - England's national game - has played a great part in forming the character of the individual, and therefore of the nation.'

This is a fascinating book and pleasantly produced.