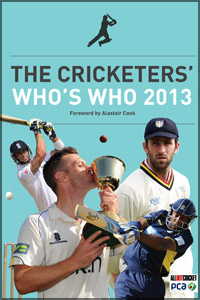 The Cricketers' Who's Who 2013
Edited by Jo Harman, Compiled by Ed Davis, Ed Kemp, Sam Stow & Matt Thacker, Vithushan Ehantharajah, James Scragg & Phil Walker - Foreword by Alastair Cook
Published under the imprint Pitch Publishing Ltd.
A2 Yeoman Gate, Yeoman Way, Worthing BN13 3QZ
Pages 610
Price Sterling Pounds 19.99
Jane Camillin
Email:
jane.camillin@pitchpublishing.co.uk
Web:
www.pitchpublishing.co.uk
The Cricketers' Who's Who heralds the start of the county summer, and it remains an indispensable reference volume with an interest in the English game.

Produced in association with All Out Cricket magazine and the Professional Cricketers' Association, The Cricketers' Who's Who 2013 is competently edited by Jo Harman, deputy editor of All Out Cricket.

The 34th edition of The Cricketers' Who's Who features almost 500 profiles of players and umpires and is more comprehensive than ever before, including questionnaires and career information on the players from each of the 18 counties, Scotland, the Netherlands and for the first time ever the England women's team. The latest edition sees a return to the well-loved and popular A-Z format and includes a foreword by England Test captain Alastair Cook

The Times journalist and All Out Cricket editor-at-large John Stern reflects on the evolution of the relationship between county cricket and England's national side.

The Who's Who editor Jo Harman remarks: "The domestic game is doing its best to strike a balance: protecting the values and traditions of the game, while showing a willingness to move with the times and make the most of every opportunity to expand its reach. We've tried to reflect this metamorphosis within The Cricketers' Who's Who. The introduction last year of a new questionnaire, which we distribute to all professional cricketers in the UK, was greeted with a positive response from readers. The players too have reacted positively and we received more responses to the questionnaire this year than ever before. It's heartening to know that The Cricketers' Who's Who is still a fixture in dressing rooms across the country."

Now firmly established as an essential annual purchase, alongside Wisden and Playfair, the latest edition of Cricketers' Who's Who, like all its predecessors, is a work to be regularly consulted and enjoyed.

This clearly laid out production will surely prove to be an invaluable compendium for the historian and the statistician. The excellent book is presented with care and attention to detail consistent with this publisher's high standards.