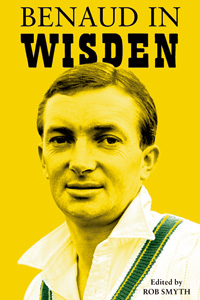 Benaud in Wisden
Edited by Rob Smyth
Publisher:
John Wisden & Co. Ltd.
An imprint of Bloomsbury Publishing PLC,
50 Bedford Square, London WC1B 3 DP, UK
Web:
www.bloomsbury.com
,
www.wisden.com
ISBN: HB: 978-1-4729-2645-6
Pages: 198
Price: Rs.599/-
The book is available in India from
Bloomsbury Publishing India Pvt. Ltd.
DDA Complex, LSC , Building No.4, Second Floor, Pocket C-6&7, Vasant Kunj New Delhi 110070 India
Tel: +91 11 40574957 +91 11 40574954
Publicity Co-ordinator: Henry Lord,
Henry.Lord@bloomsbury.com
Senior executive - Marketing & Publicity:
Peter Modoli
Email:
Peter.Modoli@bloomsbury.com
Richie Benaud, who died this year, has been paid a rich tribute by Alan Davidson, AM MBA in a foreword in this book: "Richie's contribution to cricket as a player, captain and commentator has been well documented since his passing on April 10, 2015. My offering here is to commemorate the man - the lifelong friend - who had a profound impact on my life. He was a generous friend who valued honesty; he was rich with his praise when it was deserved; he never shied away from addressing matters that needed to be discussed; and he had a rare dignity.

I know he is regarded by many as having the same kind of impact on the game as Dr.W.G.Grace, Sir Jack Hobbs, Sir Don Bradman and the many other great men from all cricket nations whose feats are documented in Wisden, the bible of cricket."

Rob Smyth believes few have ever spoken about the game with as much knowledge or authority. Benaud read his first Wisden during his first Ashes tour in 1953; his name has appeard in every Almanack since, whether as player, commentator or writer.

The author has remarked: "He was a riotously entertaining batsman, a marvellous close fielder and a mischievous leg-spinner who was forever setting booby traps for batsmen. Those qualities made him a match-winner, and that is something the statistics do support: in 24 Test wins, he averaged 31 with the bat and 18 with the ball. In 13 defeats those averages were 16 and 43. Australia never lost a match in which Benaud scored a century and took a five-for. They also never lost a Test series when he was captain, which puts him in an exclusive club."

Apart from including essays from a variety of Wisden publications, as well as reports of his 63 Test matches, Benaud in Wisden includes articles written by Benaud, including appreciations of Sir Donald Bradman, Shane Warne, Keith Miller, Dennis Lillee and the Chappell brothers. Those who have written about Benaud include Jonathan Agnew, Tim de Lisle, Jack Fingleton, Gideon Haigh and Norman Preston.

A quality production indeed! The book is worthy, reliable and informative.

Benaud in Wisden is both pleasingly designed and reasonably priced - a good buy for anyone who has followed Richie Benaud's career and wants the details all in one publication.