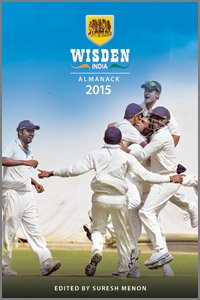 Wisden India Almanack 2015
Edited by Suresh Menon
John Wisden & Co.
An imprint of Bloomsbury Publishing Plc.
50, Bedford Square, London WCIB 3DP
Published in India by
Bloomsbury Publishing India Pvt. Ltd.
Vishrut Building, DDA Complex, Building Number 3,
Pocket C-6 & 7, Vasant Kunj, New Delhi - 110070
Senior executive - Marketing & Publicity:
Peter Modoli
Website:
www.wisdenindia.com
,
www.wisden.com
Pages: 860
Price Rs.699/-
A superb publication, the third edition of Wisden India Almanack, competently edited by Suresh Menon, has just been released.

This is an Almanack for those who have a passion for the game. The Almanack is thoughtful, well organised and presented with all the professional attention to the fascinating minutiae that we have come to expect from John Wisden & Co and Bloomsbury Publishing India Pvt. Ltd.

Ajinkya Rahane. Mithali Raj, Rishi Dhawan, Umar Akmal, Mominul Haque and Angelo Matthews have been named as Wisden India Cricketers of the Year.

Suresh Menon, in his editorial notes, writes: "It is a matter of some pride for us that Mithali Raj is one of the Cricketers of the Year. One of only six women to score a Test double-century, she has been an international for a decade and a half. Raj, whose early ambition was to be a Bharatnatyam dancer, was last year chosen as one of Wisden Almanack's five leading women cricketers of all time."

Ramachandra Guha has paid a rich tribute to Vijay Hazare in Wisden India Hall of Fame. "Hazare was to his generation of Indians what Sunny and Sachin were to theirs - a little man who took on fearsome pace bowlers, standing firm while his compatriots fell around him, thus providing, to the cricket fan, a modicum of pride in defeat."

Bedi's legacy in Indian cricket is unparalleled, according to Murali Kartik in Wisden India Hall of Fame. "He played a role in the inaugural Indian wins in four countries - New Zealand, West Indies, England and Australia. As captain, he was less successful, but had a great impact as someone who stood up for players' rights.

Bedi's generation played their cricket hard but enjoyed a drink with the opposition at the end of the day."

Dilip Sardesai's son, Rajdeep Sardesai, a journalist and consulting editor of the TV Today group mentions his father's best achievement as never to be on the losing side of a Ranji Trophy game in over thirteen years of playing for Mumbai.

India's domestic tournaments, apart from Women's cricket, have been covered extensively. Pages have also been devoted to Pakistan, Sri Lanka, Bangladesh and Asian Cricket.

All international series have been covered apart from a separate Records' section, covering Tests, ODIs, Twenty20 Internationals and First-class matches.

The Obituaries section includes the obituaries of Reg Simpson, Madhav Mantri, Haseeb Ahsan. Gary Gilmour, Neil Adcock and Anandji Dossa, the doyen of Indian cricket statistics and scorers.

An indispensable companion, the Wisden India Almanack 2015 is a must for every cricket lover.