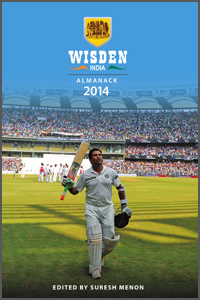 Wisden India Almanack 2014
Edited by Suresh Menon

John Wisden & Co.
An imprint of Bloomsbury Publishing Plc.,
50 Bedford Square, London WC1B 3DP

Published by Bloomsbury Publishing India Pvt. Ltd.,
Vishrut Building, DDA Complex, Building Number 3,
Pocket C-6 & 7, Vasant Kunj, New Delhi - 110070

Executive - Publicity and Digital Marketing: Peter Modoli

Pages 927

Price Rs.699/-.
The most prestigious cricket publication in the world includes specialized content created for the Indian cricket enthusiast. Now, in its second year, Wisden India Almanack 2014 is a must for all cricket lovers, the book has match summaries, scores, analyses, and player profiles from Indian cricket.

Wisden India Almanack 2014 has been painstakingly researched and lovingly compiled. The photographs are superb.

Mahendra Singh Dhoni, Cheteshwar Pujara, Ravindra Jadeja, Mushfiqur Rahim, Rangana Herath and Misbah-ul-Haq have been named as six cricketers of the Year while C.K.Nayudu and Anil Kumble figure in the Hall of Fame.

While profiling Dhoni, Greg Chappell remarked: "Dhoni, as captain, leads by example and breeds confidence in his team by showing faith in individuals. He reads the game extremely well and is one who trusts his intuition and is not afraid to take risks at critical moments; particularly in the limited-over formats."

Isa Guha, a former England cricketer, has paid a tribute to Lisa Sthalekar: "Her performances in tough situations, and during the big games, are testament to her ability to always make a difference. Anyone you speak to from the opposition will agree that she was one of Australia's biggest threats, and the game will miss her on-field prowess.

The Obituaries section includes the obituaries of Tony Greig, Christopher Martin-Jenkins, Munir Hussain, Chandidas Ganguly, Mike Denness and Alimuddin.

Sachin Tendulkar has been paid a rich tribute by VVS Laxman. "It's always a great learning experience when you watch someone prepare so meticulously and so hard, then go out and execute the plans, put the preparations into practice and achieve the desired results. Because you have seen the preparation from close quarters, you have an idea of what he is anticipating in the match. But it's one thing to have plans in place, quite another to be able to pull them off time after time. This is what distinguishes Sachin from the rest."

Suresh Menon, Editor, Wisden India Almanack 2014, believes Tendulkar's final speech might have teetered on the verge of the maudlin, but it touched hearts even among those who thought Sachinmania was being overdone.

The text of Sachin Tendulkar's speech on the final day of his international career has been reproduced. Summing up, Sachin says: "I know I have met so many guys who have fasted for me, prayed for me, done so much for me. Without that, life wouldn't have been like this for me. I want to thank you from the bottom of my heart, and also say that time has flown by rather quickly, but the memories you have left with me will always be with me forever and ever, especially "Sachin, Sachin" which will reverberate in my ears till I stop breathing. Thank you very much. If I have missed out on saying something, I hope you understand. Goodbye."

The major highlight of this year's edition is a section, namely 80 years of Ranji Trophy. India's domestic cricket, apart from Women's cricket, has been covered in detail. Pages have also been devoted to Pakistan, Sri Lanka, Bangladesh, Afghanistan and UAE.

All international series have been covered apart from a separate Records' section, covering Tests, ODIs, Twenty20 Internationals and First-class matches.

A quality production indeed! The Almanack is worthy, reliable and informative. An indispensable companion at the game.