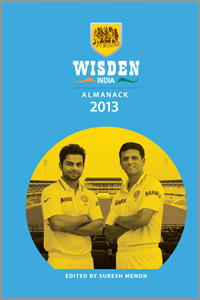 Wisden India Almanack 2013
Edited by Suresh Menon

John Wisden & Co. An imprint of Bloomsbury Publishing Plc.
50 Bedford Square, London WC1B 3DP
Published by Bloomsbury Publishing India Pvt. Ltd.
Vishrut Building, DDA Complex, Building Number 3
Pocket C-6 & 7, Vasant Kunj, New Delhi - 110070

Pages 758
Price Rs.599/-

Senior Manager Marketing, Academic & Trade: Anurima Roy
From WG Grace to Virat Kohli, Wisden has been telling the story of cricket for 150 years. The first Almanack was published in 1864, and it is now acknowledged throughout the world as cricket's bible, and probably the most famous annual sporting publication of all.

Having become an English institution, it now seeks new fields of glory. The Wisden India Almanack is four books in one: a volume of essays, a book of records, an annual of matches played and a miscellany of unusual occurrences, all contributing to a good read. It is for the cricket fanatic, and for those interested in fine writing and intriguing stories.

Rahul Dravid, Kumar Sangakkara, Virat Kohli, Saeed Ajmal, Umesh Yadav and Shakib Al Hasan have been named as six cricketers of the Year while Nawab of Pataudi, Kapil Dev and Sunil Gavaskar figure in the Hall of Fame.

In a section, Farewell to the Maestros, Suresh Menon has paid a rich tribute to Dravid: "Rahul Dravid negotiated with orthodoxy throughout his career. He began as a slightly over-coached schoolboy, a little too fixated on elbow angle and feet position, but finished as an accomplished Twenty20 improviser, hitting three sixes in a row in an international. He had the intelligence to adapt, and from being a slave to orthodoxy, he became its master. It made him an original, as he used the grammar of the game to essay some of its finest innings."

Mike Coward while profiling VVS Laxman, has remarked: "That Laxman made a habit of humbling if not humiliating Australian bowlers is a measure of his renown as for the greater part of his Test career Australia set new standards of excellence and challenged the rest of the world to follow suit. Indeed, it is a part of the lore of the game that during India's visit Down Under in 2003-04 Waugh and his cohorts sheepishly admitted they did not know where to bowl to him."

India's domestic cricket, apart from Women's cricket, has been covered in detail. Pages have also been devoted to Pakistan, Sri Lanka and Bangladesh. The highlight of this edition is the compilation of Key Dates in Indian Cricket by my friend, Mohandas Menon.

All international series have been covered apart from a separate Records' section, covering Tests, ODIs, Twenty20 Internationals, First-class matches, Ranji Trophy an Chronicles.

All in all, a most stimulating book, which no lover of the game should be without. An indispensable companion at the game.