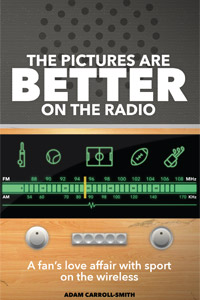 The Pictures are Better on the Radio - One Man's Love Affair with Sport on the Wireless
by Adam Carroll-Smith
Publisher:
Pitch Publishing Ltd.
A2, Yeoman Gate, Yeoman Way, Durrington,
BN13 3QZ, England
Web:
www.pitchpublishing.co.uk
ISBN 978 1785310614
Pages 192
Price Sterling Pounds 12 and Pence 99
Adam Carroll-Smith is the author of Chasing Sachin and Six Stickers: A Journey to Complete an Old Sticker Album. He lives in Southsea with his wife (Anna), his daughter (Teddy), his son (Kip) and his radio (unnamed).

The Pictures Are Better on the Radio picks through a few notable occasions in my twenty plus years as a sports fan when listening really stirred my emotions, taught me something about life as a fan, or simply kept boredom at bay, according to Adam Carroll-Smith. "It is a collection of essays and stories and memories, of moments in time when the radio was on and I was glad to hear it."

"The Book is not a futile attempt to prove radio's superiority over any other way of following sport but a love letter, in episodic form, to the medium and all that it is capable of. Not that I am actually in love with a radio of course; I am just a big fan."

The funny, heart-warming tale of Adam Carroll-Smith's enduring love of sport on the radio - a uniquely personal collection of memories with the power to generate a shared, nostalgic sense of deja vu. From furtively listening to Premier League matches under his duvet as a boy, to secretly following Ashes Tests and Wimbledon championships when he should have been working, all the way to sleep-deprived nocturnal sessions with the Super Bowl and the Ryder Cup, The Pictures are Better on the Radio tells the story of how one fan fell in love with sport on the wireless.

Full of acute observations, touching anecdotes and Adam's customary mix of deadpan and absurdist humour, the memoir effortlessly gets to the heart of what it means to be a sports obsessive, and explores why radio continues to be such a cherished medium for fans across the world.

"Beautifully written. An excellent read." Ian McMillan, BBC Radio 3's The Verb; BBC Radio 4
The whole book is thoroughly entertaining read and lively.