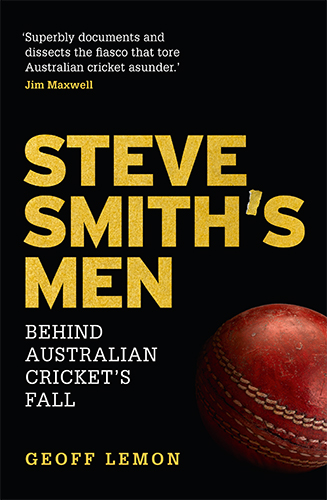 Steve Smith's Men
Geoff Lemon


Published by Hardie Grant Books
An imprint of Hardie Grant Publishing,
Building 1, 658 Church Street,
Richmond, Victoria 3121, Australia.

ISBN 978 1 74379 621 4

Pages 291

RRP Aus $ 29.99
Geoff Lemon is now the proud recipient of cricket literature's most revered cricket accolades - the MCC/Cricket Society Book of the Year and Wisden Book of the Year awards. He has written a timely and thoughtful book about the ball tampering events, and so much more.

He was on top of the world with numbers (6199 runs at an average of 61.37 including 23 hundreds and 24 fifties) bettered only by Don Bradman. Then Australian cricket captain Steve Smith led his team into one of the biggest controversies ever to have happened in Australian sport - a cheating scandal that stunned the whole cricketing world. The events led to Steve Smith, David Warner and Cameron Bancroft being suspended for ball tampering in South Africa.

Caught ball tampering in 2018, worldwide media exploded, the public was appalled and million-dollar contracts were torn up. How did a team with such hard-edged history reach crisis point under Smith, and what happened on their tour of South Africa to cause such a failure of culture on the world stage?

Geoff Lemon witnessed that story from commentary boxes and press conferences, and was there in South Africa for its final act. This is a frank, fearless and often humorous account of the path from Ashes high to Cape Town low, from someone who watched it all unfold.

Geoff Lemon writes a dramatic story that exposes how the actions of a few young men shook the very foundations of the Australian cricket establishment, and where the future might lead.

In the first chapter, namely, Legend to the Fall, Lemon remarked: "We'd known he was good, but 2017 was when Smith became supreme. Three centuries in a series in India, while his main rival, Virat Kohli, barely made a run. Three more hundreds within the first four Ashes Tests. To use the bluntest metric, his batting average was now the second best ever at 63.75. There was no longer any doubt he was the best Test batsman in the world. One-time rivals like Joe Root were left in the dust. The streak, the dominance, were truly insane. 'We're watching Bradman here,' said the Australian Broadcasting Corporation's lead radio caller, Jim Maxwell. Watching on from the back of the box, Jim was shaking his head in disbelief.

Everyone made that comparison at some point during the summer. Of course Smith was a mile off Bradman's famous 99.94, because the old maestro had him well covered in scale: where Smith made hundreds, Bradman made triples."

There is a full and frank narrative of Steve Smith's captaincy, David Warner's influence, the dramas that beset Australian cricket, and a blow-by-blow account from Ashes high to Cape Town low, from someone who was there for every ball and every statement.

A fantastic read for anyone interested in what has happened to the Australian men's cricket team that year and the background. The book is destined to become the essential work on one of modern sport's greatest controversies.