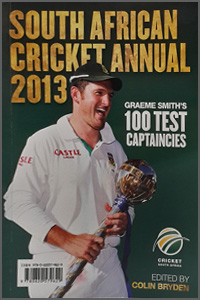 South African Cricket Annual 2013
-Edited by Colin Bryden, Statistics by Andrew Samson


Published by
Cricket South Africa
PO Box 55009, Northlands 2116

Pages 688

Price Rand 199
Kyle Abbott, Henry Davids, Dean Elgar, Rory Kleinveldt and Chris Morris have been deservingly named as Five Cricketers of the Year.

The South African side, according to Colin Bryden, is truly a powerhouse. "Graeme Smith, the first man to captain a side 100 times in Tests is a proven leader and together with Hashim Amla, Jacques Kallis and AB de Villiers is one of four batsmen who have already done enough to be considered among the country's all-time greats."

Colin has shown his concern with regard to the recent performance of the Australian team. "The Sheffield Shield first-class competition was long regarded as an excellent breeding ground for Test players because it was highly competitive. The standard of play has apparently gone down."

Colin says that the top South African players seldom appear in domestic cricket, which is not good for the long-term production of players, even with compensatory systems, such as the A team, Under-19 and Emerging Players tours.
Stuart Hess, cricket correspondent of The Star has written an excellent piece, namely, Smith - Captain Fantastic and The Road to 100 Captaincies.

The highlight of the South African Cricket Annual, as always, has been a meticulously compiled records' section by my friend, Andrew Samson, covering South African Tests, ODIs, Twenty20 Internationals apart from first-class and South African women cricket.

Andrew Samson has done a tremendous amount of research, producing interesting facts and figures. His superb statistical work needs no introduction. It is first-rate.

The Obituaries section features Neil Adcock, who was South Africa's premier fast bowler between 1953 and 1962 and was the first South African pace bowler to reach the milestone of 100 Test wickets.

South African Cricket Annual 2013 has become indispensable to followers of South African cricket. It is an essential purchase for any cricket enthusiast.