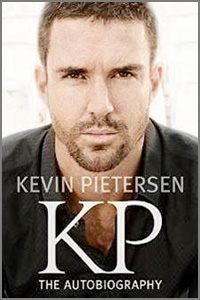 Kevin Pietersen - The Autobiography
First Published in Great Britain in 2014 by
Sphere - An imprint of Little
,
Brown Group, 100,
Victoria Embankment,
London EC4Y ODY,
An Hachette UK Company
www.hatchette.co.uk
,
www.littlebrown.co.uk
Pages 327
Price Sterling Pounds Twenty only
Helen Upton
, Publicity Assistant – Commercial Division
Former England batsman Kevin Pietersen, MBE, (the only English player to have been named Player of the Tournament at the World Cup, when the team won the World Twenty20 in 2010) has produced a controversial sporting memoir packed with confessions about life in an England team united by success but plagued by divided loyalties.

In his recently released autobiography, Kevin Pietersen refers to an email, Rahul Dravid, the Indian batting legend, wrote to him about playing spinners which made a massive difference to his approach. "KP, you are a really good player, you need to watch the ball and trust yourself. You'll be able to pick up length and line and spin a lot better if you're calm and trusting at the crease. Under stress we miss vital clues especially early on. If you get beaten and it spins past you so what...you'r still in, and realise that you'll pick up the next ball better if you can forget the earlier one. Don't let anyone tell you that you can't play spin, I have seen you and you can! Anyway, I probably rambled on too much...all the best, go well! Rahul"

According to Pietersen, Rahul Dravid was a great and heroic Indian batsman in his day. "He is also a genius at dealing with spin bowlers. Our conversations and emails were a private masterclass from a genuine guru. Rahul improved my cricket and helped me develop the way I think about the game. His generosity will stay with me always."

Pietersen has expressed his desire to return to Test cricket and says he "would jump at the chance. I dream of playing for England again. It was an honour and privilege."

Pietersen's autobiography is clearly a revenge book. Pietersen says as a result of playing in the IPL, he has formed friendships with players from many countries.

Pietersen believes "the IPL has a potential audience of a billion people in India alone. Every time you walk out onto the field there are at least forty thousand people watching from the stands. Under the floodlights, no matter where you are, the place buzzes and crackles with electricity and excitement. It's an adrenalin rush. Your teammates and opponents are drawn from the best players in the world. The format is built on aggression and thrills. You are paid better and looked after better than you will ever be at any other time in your career as a top-class cricketer. You feel like you are playing a world game"

Pietersen reveals that "the social price of being in the IPL has been high. A lot of resentment has festered in the England dressing room. Money is the obvious thing, but the friendships irritate the other England players too."

Pietersen is a great fan of the IPL and had loved the whole IPL concept, though it was lots of fun and very different from international cricket.

Pietersen believes the England guys don't have many relationships with foreign players unless they've played with them in their county cricket set-up for a couple of games. There are not many of those friendships.

Pietersen has scored 32 hundreds and 13,779 runs at an average of 44.30 - both records for England in international cricket. Cricket enthusiasts would have preferred to have at least six to ten pages of records' section, covering Tests, ODIs, T20Is apart from the first-class cricket, mentioning his statistical achievements as well.