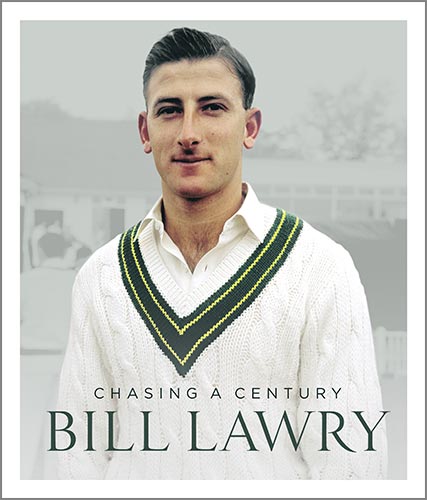 Bill Lawry Chasing A Century



Published by Hardie Grant Books
An imprint of Hardie Grant Publishing,
Building 1, 658 Church Street,
Richmond, Victoria 3121, Australia.

ISBN 978 1 74379 354 1

Pages 210

RRP Aus $ 45
Bill Lawry, having made his Test debut in 1961 against England at Edgbaston, was one of Australia's finest opening batsmen. He impressed everyone in his debut series, aggregating 420 at an average of 52.50, including two hundreds and two fifties, in eight innings (Five Tests).

Overall, he had averaged 47.15 while amassing 5234, including 13 centuries and 27 fifties, in 67 Tests, with a highest of 210 vs West Indies at Bridgetown in 1965. His only other double hundred was 205 against West Indies at Melbourne in 1968. His record against the West Indies was particularly impressive, totalling 1035 (ave 69.00) in ten Tests, including four centuries and three fifties.

Chasing A Century has been divided into six sections - Early Life, Victorian team, Playing for Australia, District Cricket Hero, Captain and Commentator. Those concerning with Lawry's early life, grade career and state cricket are modest in length. The longest section is entitled Playing for Australia, the next in length Captain, with the book closing with a chapter on Lawry, the Commentator.

Chasing A Century is an outstanding publication - a collection of tributes, cuttings and reminiscences about a man, who announced his retirement gracefully as commentator at the age of 81. The reason for his retirement was the end of Channel Nine's four-decade long association with Australia's home summer. Lawry, a popular commentator for more than 40 years, has been at the heart of the game for almost sixty years.

Tales from colleagues, players, cricket writers and those who listened to his broadcasts every summer, bring Bill Lawry's distinguished career to life and remind us of the colossal contribution this left-handed legend has made to Australian cricket.
His top three partnerships in Tests were all against the West Indies - 382 with Bobby Simpson for the first wicket at Bridgetown in May 1965; 336 with Doug Walters for the fourth wicket at Sydney in February 1969 and 298 with Ian Chappell for the second wicket at Melbourne in December 1968.

As captain, Lawry enjoyed success % of 36.00, winning nine, losing eight and drawing the eight out of 25 Tests. Bill was a very good and astute captain, according to Keith Stackpole. "He led by example. As such, he was a terrific leader of mature cricketers who knew their own game and young fellas finding their way in Shield or Test cricket. The personality type that posed a bit more of a challange for Bill was fellas like Doug Walters who needed the reins to be left off them. Because Bill was so dedicated to cricket, he didn't quite know how to handle blokes like Dougie who, instead of going to bed early the night before a game, needed a beer or two to relax and perform at their best the next day."

Ninety two photographs that grace the pages of the book are marvellous.The book published by Hardie Grant Books is a quality production. Binding, paper, splendid print - indeed, the whole presentation - are of a very high order. We are thankful to Kirstie Grant, Hardie Grant Books, for sending the review copy for our website.