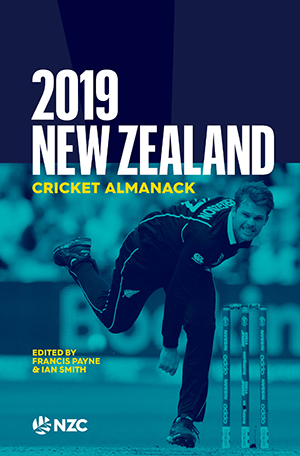 2019 New Zealand Cricket Almanack
Edited by Francis Payne and Ian Smith


A Mower Book
Published by Upstart Press Ltd.
Level 4, 15 Huron Street,
Takapuna, Auckland, New Zealand.

ISBN: 978-1-988516-85-1

Pages: 572
RRP: New Zealand $ 55.00
2019 New Zealand Cricket Almanack Edited by Francis Payne and Ian Smith - A Mower Book (Published by Upstart Press Ltd. Level 4, 15 Huron Street, Takapuna, Auckland, New Zealand. ISBN 978-1-988516-85-1 Pages 572 RRP New Zealand $ 55.00)

Even in the era of cricket's prestigious websites, I still get a thrill when my New Zealand Cricket Almanack arrives.

The 72nd edition of New Zealand Cricket Almanack is the 37th edited by Francis Payne and Ian Smith - an outstanding job done by them over the years.

The editors have done a tremendous amount of research, producing interesting facts and figures.

Trent Boult and Kane Williamson have been named Players of the Year and Matt Bacon, Dane Cleaver and Nathan Smith as promising players.

The editors remarked in the section, From the editors, "While preparation for the World Cup was high on the Black Caps' list of priorities, they also took part in three Test series, winning them all. This meant that New Zealand had won five test series in succession, surpassing their previous best of three wins in a row. It was an encouraging start for new coach Gary Stead which got even better with New Zealand reaching the World Cup final".

"The tournament's finale will be remembered as the first tied World Cup final and the first time that a super over was used in a one-day international. When the super over was also tied, the rarely invoked boundary countback rule came into play as the tie breaker and saw England become World Cup winners for the first time."

Needless to say, the coverage of matches, is, as always, exemplary and this year's almanack has again been an absolute delight to read and treasure.

Well-organised and excellently produced, it is a great pleasure to review 2019 New Zealand Cricket Almanack. The publishers are to be congratulated on this outstanding production, which is a pleasure to peruse, handsome to handle and reasonably priced. Thanks to superb efforts of Francis Payne and Ian Smith, cricket's library has been enriched by the appearance of this Almanack over the years.

An absorbing compilation of the season's happenings, as in the previous years, is the highlight of this Almanack. The statistical highlights, covered in this section, are not to be seen in any other cricket publication and website. Some of the interesting Happenings covered in this Almanack are:

# New Zealand had totals of 371 for seven on January 3 & 319 for seven On January 5 - both at Mount Maunganui and 364 for four at Nelson on January 8 in the three one-day internationals against Sri Lanka. The aggregate of 1054 runs was a record for a three-match series, just surpassing the 1053 India scored in three games against England in India in 2016-17. India made 356 for seven at Pune, 381 for six at Cuttack and 316 for nine at Kolkata.

# The mammoth target of 660 which Sri Lanka were set by New Zealand in the Christchurch Test in December 2018, was a record for a five-day Test match. Of the seven higher targets six were in timeless tests and the other in a six-day Test.

# When Daryl Mitchell made his New Zealand debut in the Twenty20 International against India at Westpac Stadium on February 6, it was the first instance of a son playing cricket for New Zealand after his father had represented New Zealand in a different sport. John Mitchell had played rugby.

# There were no extras in Bangladesh's total of 234 on the first day of the first Test at Seddon Park. It was by far the highest all-out total with no extras in a Test in New Zealand. The previous highest was just 77 by West Indies at Auckland in 1955-56 on the famous occasion of New Zealand's first Test win.

# Sri Lankan batsmen Kusal Mendis and Angelo Mathews batted throghout the entire fourth day of the first Test against New Zealand at the Basin Reerve. This was the first time that no wickets had fallen in a complete day's play in a Test in New Zealand.

A detailed statistical section, covering New Zealand's Tests, ODIs and First-class cricket apart from the limited-overs records are always exhaustive. Thirteen pages have been devoted to the ICC Cricket World Cup 2019.

Auckland batsman Bill Playle, who died on February 27, 2019, figures in this year's almanack. He had appeared in eight Tests for New Zealand and he later played three seasons with Western Australia.

An indispensable companion, the book is a must for every cricket lover interested in New Zealand Cricket. This is a handsome, well-illustrated volume and would make an excellent present and grace any bookshelf.